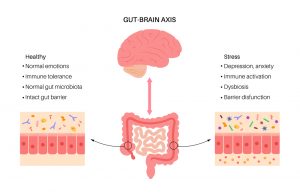 You can have a great diet.   You can take first rate supplements,
BUT if your gut isn't working right, you don't get the benefits.
Bottom Line is that you need to build healthy digestion,  If your digestion isn't up to par, you won't be able to use the nutrition to create health.
The Gut-Brain Axis is the communication system between the brain and the trillions of bacteria and enzymes living within our intestines – our gut microbiome.
So, improve your gut and you improve your brain, your digestion, your nerves,  your immune system.
This is the most important scientific discovery for human healthcare in recent decades.